Convenient Banking Services
There are many options for conducting your banking, beyond the traditional visit to the branch during bank office hours. Bank online, by calling one of our offices, at an Automated Teller Machine, or by utilizing the automated voice response phone system. The choices are yours and they put you in greater control over your money in any situation, no matter where you are or what time it is. After all, control over your financial matters is really what you want - and need.
Contact us today or visit our office nearest you. We'll make it easy for you.
Automated Teller Machines (ATMs)
No need to worry whether the bank lobby or drive-thru is open. Just stop by any Frazer ATM - anytime day or night.
Withdraw cash
Verify account balances
Transfer funds between accounts
Direct Deposit
Make arrangements with a Frazer Bank associate to have your paychecks easily deposited directly into your checking and/or savings account.
Reliable and secure
Eliminates the need to get to the bank during set hours
Credits the funds into your account sooner
Deposit payroll, Social Security and tax refund checks
Drive-Thru Banking
We have convenient drive-thru teller banking at our branches to offer quick and friendly service without getting out of your car.
Cash checks
Order checks
Make a deposit
Make a loan payment
Night Deposit
Use Frazer Bank's safe and secure night depository on the outside of our buildings for those times when you need to deposit checks after banking hours. The deposit is verified and processed upon resumption of banking hours.
Debit Card
Frazer Bank debit cards use the latest in chip technology.
A new debit card can be issued with Instant Issue at the following offices: Main Office, Hobart Office, Frederick Office and Edmond Office.
A fee may apply when getting a reissued card.
You will receive a card automatically at the expiration of your current card.
To learn more, contact us today or visit our office nearest you.
Card Management
Card Management at your Fingertips
Manage and control your Frazer Bank Debit Card by using the Card Management controls in the Frazer Bank Mobile App.
View spending by category, monthly trends, and location
Easily lock and unlock cards
Restrict purchases to location, merchant categories or transaction types
Set up alerts based on transaction type, merchant category, location or spend limit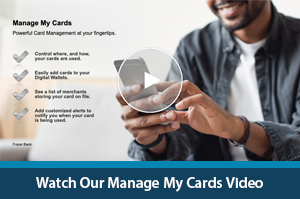 Wire Transfer
Wires are a safe and secure method of electronically transmitting money. Individuals or businesses may send funds to another financial institution for deposit into recipient's account.
Incoming Wires are used to deposit funds into a Frazer Bank checking account. The fee for incoming wires is $10.00. Wires are processed through The Bankers Bank in Oklahoma City, Oklahoma. Specific information is required:
The Bankers Bank

OKC, OK

ABA Routing number

103003616

To Credit

Frazer Bank

Account number

10095

For Final Credit to:

Customer: ______________________
Account Number: ________________
Outgoing Wires are used to deposit funds into an account at another bank. There is a $15.00 fee for domestic outgoing wires. These wires require specific information:
Name of customer requesting the wire transfer and the Frazer Bank account number where the funds will be withdrawn.
Name of the bank where the funds will be deposited
The ABA Routing number of the bank where the funds will be deposited (always 9 digits)
Beneficiary's name, address, and account number where the funds will be deposited
Wires over $3,000.00 must have the sender's signature.
The best procedure is to call the bank where the beneficiary's account is located and ask for their wiring instructions
Outgoing Foreign Wires are used to deposit funds into an account in another country. There is a $50 fee for foreign outgoing wires. To originate a foreign wire you must come into a Frazer Bank location.
Safe Deposit Boxes
Many of our offices provide Safe Deposit Boxes in a variety of sizes and prices. The annual rental fee is billed each year from the month the box was originally rented. Contact us to see if your local Frazer Bank office has safe deposit boxes available.
Telephone Banking
Telephone Banking is a convenient, self-service method of obtaining information or making transactions over the phone. It is available 24 hours a day, 365 days a year.
Toll free: 800-482-7798
Access checking, savings, CDs and loans
Verify account balances
Transfer funds between accounts
See if a check has cleared
Make loan payments