Retail Mobile Banking Services
Retail Mobile Banking
Convenient banking at your finger-tips!
Access your finances anytime, anywhere, with your qualified mobile device, and at no additional charge! Bank 24/7 with text, browser, or the downloadable app for iPhone or Android. It is secure (multiple layers of security and authentication), and easy to use.
Note: You must be enrolled in Retail Online Banking to use Mobile Banking. (Username and password required.)
What can you do with Retail Mobile Banking?
Monitor account balances and recent transaction history
Receive Real-Time Alerts (Notifi) for Account, Transactional or Security Notifications
Transfer funds between your Frazer Bank accounts
Make loan payments
Pay your bills (through Bill pay)
Send money to individuals with Popmoney
Find the nearest branch or ATM locations
Transfer Funds to external accounts that you are an owner or signer on
Initial Retail Mobile Banking Enrollment Steps
Log on to Retail Online Banking and navigate to the Profile link at the top of the home page.
Click on the Enroll button in the mobile banking profile.
Agree to the Terms and Conditions
Select the appropriate App Store and enter your mobile phone number to receive the install message.
Clink on the link in the message to install the Frazer Bank Mobile App.
Log in to your mobile app with your username, password and security question.
Accept the Mobile Banking Terms and Conditions on your mobile device.
Using Retail Mobile Banking from a new device
Go to the app store for your device type
Search "Frazer Bank" and download the free app.
Enter your username.
Answer a security question.
Enter your password.

Instant Balance
Check your balance in seconds with Instant Balance!
By using Instant Balance on your Frazer Bank Mobile Banking app, you can reduce the amount of effort it takes to check your balance. Instant Balance allows you to see your chosen account balances without logging in.
Instant Balance is a secure, read-only feature that uses the same pre-authenticated balance inquiry used for delivering balances via text messages (SMS). It cannot be used to complete transactions and account numbers are always masked. Since no login occurs, no sensitive authentication or account information is transmitted during the interaction.
Please note that by default, Instant Balance is not enabled. To use Instant Balance you must first opt in.
Easy Setup
Log in to your mobile app
Click on "more" in your navigation panel
Click on "Instant Balance"
Slide the "Instant Balance" button to green
Choose the account balance(s) you want to view (you can select up to six)
Tap "Save" to update your settings.
To view your balances:
After setup, view your balances by tapping on the Instant Balance icon on the login screen. Make sure you have "Save ID" turned on.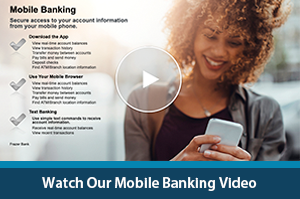 How to use Text Banking
Enroll for text based banking from your online profile.
Begin sending text commands to 99588 through your mobile phones SMS text application. To receive a text message with all text commands simply text HELP to 99588. Message and data rates may apply.
Text Commands
BAL to 99588 for the current balances of your accounts
HIST+Acct Nickname for your transaction history
HELP to be sent our contact information
ATM+ZipCode for a list of nearby branches
STOP to cancel text banking
Alerts for Mobile Banking
Real-time alerts let you know what's happening with your finances the moment it happens.

Monitor account balances an activity
Get Deposit & Withdrawal notifications
Debit Card Activity notifications
Control Security Alerts

You will receive these as a push notification to your mobile device.
Mobile Deposit
Mobile Deposit is secure, easy to use, and convenient.
Deposit checks directly into your account using your Android or Apple smartphone. Take photos of the front and back of your check and submit. It's that easy. Save time with fewer trips to the bank
Access to Mobile Deposit
You are given access to mobile deposit when you enroll for Retail Online Banking. If you are already using mobile banking and you don't see the "deposit" icon on your menu, just give us a call and we can add the service for you. If you are not using Retail Online Banking you'll need to enroll.
Mobile Bill Pay
Mobile Bill Pay is a fast and secure way to stay on top of your payments from anywhere.
Our Mobile Banking app for iPhone® and Android™ devices allows you to pay virtually anyone at anytime from anywhere using your enrolled checking account. Making payments through your mobile device saves you the time and effort it would otherwise take to write and mail a physical check. In addition, you can view or cancel existing payments that have already been scheduled.
To take advantage of the bill pay feature within the Mobile Banking app you must first be enrolled in Bill Pay through Retail Online Banking, and have used the online site to set up your payees.
Scheduling new payments using the mobile app is easy!
Select Make a new payment under the Pay Bills option
Choose a payee from the dropdown list
Enter the amount and date you would like your payment delivered by
Confirm and you're done!